Fast & Easy Design and Simulation of MNS with EASE Evac
Image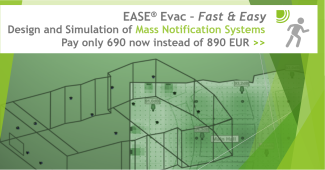 For several years, increasing concern about public safety has been driving the market of mass notification systems. Its current compound annual growth rate (CAGR) is estimated to be 15 %. There is also a growing demand for mass notification systems as a supporting tool in our daily lives where the focus is on information and convenience. The application areas where mass notification systems are most used include education, healthcare, entertainment, retail, transportation & travel, and industrial facilities, to name a few. In other words, any facility where large numbers of people congregate.
For some of these environments, there are precise safety requirements and regulations regarding voice alarm and signaling. Compliance with them must be ensured in the planning phase and confirmed during commissioning. In this context, equipment required for message delivery includes electro-acoustic devices such as speakers and horns. To evaluate how to place and aim these speakers and horns in a venue, software modelling tools allow quick and accurate creation and analysis of designs. This ensures that the acoustic information is provided reliably and in the desired quality.
Thousands of acoustic consultants and engineers already rely on our powerful software EASE® for their daily work. For a growing number of them, planning of MNS has become increasingly important. However, this field of work makes its own demands on the planning software, which AFMG® meets with EASE Evac - a solution that was specifically tailored to these needs. EASE Evac represents an independent tool that will greatly speed up and simplify work on mass notification projects and perfectly complements EASE for these applications.
EASE Evac makes an excellent addition to your software portfolio by providing:
Intuitive room entry in just minutes.
Planning of systems for all acoustic usage scenarios for voice announcement via loudspeakers or alarm signals.
Large database of widely used brands and products.
Auto-arrange option to quickly add a vast number of ceiling loudspeakers in a user-defined grid.
Simulation of high- and low-impedance networks including transformer settings.
Fast and precise prediction of SPL and SNR as well as STI and CIS.
Extensive reports for calculation, presentation and installation.
The combination of EASE and EASE Evac can be considered something of a perfect match, as their functions complement each other optimally. In addition, the package of both products offers the possibility to optimize the performance of a MNS even further:
Specify the acoustic properties of walls, ceilings, floors and room furnishings by defining their absorption characteristics. Extend the existing database of EASE Evac with acoustic materials provided by or created using EASE.
Use EASE Evac for fast room entry and quick mappings, then export room models to EASE for in-depth raytracing investigations and auralization.
Consider room acoustic conditions by importing reverberation times calculated in EASE.
Whether you are already working successfully with EASE and want to add EASE Evac to your portfolio or if you already work successfully with EASE Evac and want to expand your team due to the growing market, now is a good opportunity to purchase licenses:
Until the end of May we offer EASE Evac at a price of only 690 EUR instead of 890 EUR!


Purchase Now