Image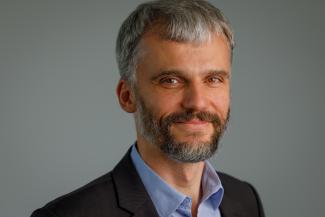 Introductory Words by Dr. Stefan Feistel
"Acoustic design projects should be carried out on a scientific basis. They should always be accompanied by a detailed on-site analysis and a precise computer model."  
- This thought became the guiding principle when the renowned acoustician Dr. Wolfgang Ahnert began his collaboration with the theoretical physicist Dr. Rainer Feistel in 1982. And to this day it is still the guiding principle of AFMG's business.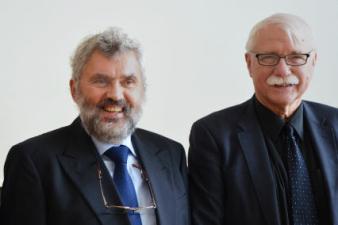 With this spirit, the company's founders and employees have developed a wide range of measurement and simulation software solutions for applications in pro-audio and room acoustics. The success of our first and now famous product EASE® (Electro-Acoustic Simulator for Engineers) has led to continuous growth and creation of numerous related products and services over the course of our 30-year history.
Today, AFMG's measurement and simulation products are used by tens of thousands of professionals. The wide-ranging adoption by acoustic consultants, sound engineers, and sound system manufacturers on five continents would not have happened if not for the accuracy of the measurement and simulation results. Born out of a university, science-based environment our background is still strongly research-oriented. More than a hundred publications and papers, as well as books and patents document our continuous striving for great precision and reliability. For the same reasons, we collaborate with acoustics departments of leading universities, such as the Institute for Technical Acoustics at the RWTH Aachen or the Chair of Audio Communication at the TU Berlin.
Bringing together the needs of the audio and acoustics community on the one hand and the theoretical background on the other, many of our products introduced groundbreaking innovations to the industry as a whole. May it be the world's first real-time auralisation on a PC, high-resolution line array modeling, full-length room acoustic simulation, FIR-based beam steering, or live-sound impulse response measurements – numerous new developments have had significant impact on how audio engineers and acousticians do their daily work.
This impact is what matters most to everybody at AFMG: Bringing value to our customers, ultimately enabling them to do a better job by providing better designs, installations and performances. AFMG's tools substantially expand the ability of acoustic consultants and sound engineers to improve the daily lives of literally billions of people worldwide. This may be by ensuring high life-safety standards through more intelligible and more reliable announcement systems. It may also be by improving people's work environments and night sleep by reducing noise pollution and increasing noise insulation. And it is often about the fascinating point where technology and creativity meet: Competently designing venues and productions in order to offer people the greatest entertainment possible.
Image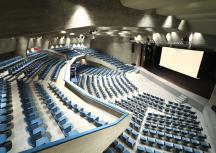 AFMG's success today, however, does not originate solely in the accuracy and practical value of our software products but also in the unique accompanying offerings that we make, such as worldwide training courses that give new users hands-on learning opportunities, the extensive loudspeaker and material databases maintained by AFMG, and the high-quality technical support that AFMG and its partners provide. It is the very combination of these different aspects that constitutes our solutions and that lets them thrive.
Our company's three-decade journey has not always been smooth, though. Originally driven by personal motivation and academic interest in acoustics, eventually we had to go through a full transformation that turned individual researchers and programmers into tightly-knit teams with flat hierarchies, professional processes, and state-of-the-art working environments. The opportunity to take part in this transformative process has provided great motivation and increased creativity across all team members. The results of this challenging transformation are just now coming to fruition and will become more apparent in the coming years as new software tools and innovations are introduced to the market.
At the time of writing, AFMG's main focus is on completing the development of EASE 5 on a new technological platform. We are working hard on making the new version of our software the next groundbreaking milestone for our users. Ultimately, our eternal goal is to actively contribute to better sound and better acoustics while being a reliable partner to our customers worldwide.
Dr. Stefan Feistel
Berlin in September, 2021
Milestones in AFMG History
Company Key Facts
Ahnert Feistel Media Group (AFMG) is headquartered in Berlin, Germany.
Legal structure:

The group consists of three entities:

AFMG Technologies GmbH represents the group formally and takes care of marketing, sales, and support.
SDA Software Design Ahnert GmbH is responsible for software development and R&D.
AFMG Holding GmbH & Co. KG is the 100% shareholder of the two companies above and is family owned.

Dr. Stefan Feistel acts as the managing director of the group. Co-founders Prof. Dr. Wolfgang Ahnert & Dr. Rainer Feistel are members of the board.

Partners and distributors:

AFMG's partner serving customers in the US and Canada is AFMG Services North America, LLC, led by industry veterans Bruce Olson and Ana Jaramillo.
AFMG cooperates with distributors and partners in many regions worldwide.

Staff:

AFMG employs about 20 people with different professional backgrounds ranging from business administration and marketing to engineering, physics, and software development.
About half of our staff are woman and half are men.
We have team members from Germany, the US, Colombia, and Brazil.

Our customers include:

Consulting offices and design firms for sound reinforecements, room acoustics, and building acoustics
Sound engineers and production companies
Installation companies and distributors of audio products
Loudspeaker manufacturers and sound system designers
Audio and acoustics departmenets of universities
Measurement labs