EASE Focus goes Immersive with SPAT Revolution!
Image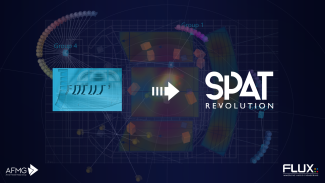 Being one of the most popular acoustic simulation and optimization tools worldwide, EASE Focus 3 is increasingly employed also for the design of immersive sound systems. Its intuitive and fast workflows as well as its universal loudspeaker database of about 150 brands and almost 1000 models make it the obvious choice for creating, refining, and documenting loudspeaker setups.
Now another major milestone has been reached with the latest release of EASE Focus (version 3.1.230), adding support for exporting reproduction system arrangements for import into third-party software such as SPAT Revolution (version 23.08), the established real-time spatial audio mixing engine developed by FLUX:: Immersive.
The new interface allows transferring position and orientation information as well as model numbers and EQ settings. Workflows for immersive designs are greatly simplified as users of EASE Focus and SPAT Revolution can switch directly between the two software solutions. The combination of the two tools forms the ideal platform for evaluating, tuning, and running sophisticated spatial audio applications using all kinds of sound systems, from leading brands to innovative startups.
Hugo Larin, Business Director of FLUX::Immersive, states: "We are delighted that SPAT Revolution 23.08 now supports XLD import from EASE Focus, to map speaker positions. This implementation is also the first to support orientation from the modelling / prediction software, something key to Wave Field Synthesis deployments. From the design model to the system ´as built' update, we can simply pass the final speaker configuration to the immersive SPAT Revolution engine to define the arrangement to use for the desired reproduction technique."
Stefan Feistel, Managing Director of AFMG, comments: "Given the increasing number and quality of immersive sound applications worldwide, it is a major step forward for us to provide our users with an interface to leading rendering software like SPAT Revolution. This development goes along with the more advanced immersive design tools that have been incorporated into the latest updates of EASE 5. Therefore we really appreciate the innovative collaboration - at FLUX and at AFMG, we are all in for better sound!"