EASE 5 Second Edition: Major feature additions & new calculation tools
Image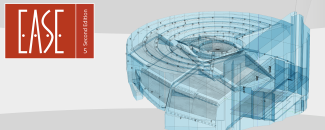 EASE 5 Second Edition comprises numerous new tools and improvements as well as all features added since the launch of the First Edition in October 2022. In total 11 major updates have been published in the meantime - all based on the feedback of hundreds of customers - leading up to the Second Edition published in September 2023.
The release of EASE 5-SE marks a turning point that many long-term EASE® users have been waiting for:
All required functionality for dealing with large and complex projects - known from EASE 4 - is now available!
In EASE 5 Second Edition, however, the setup, evaluation, and tuning of such projects is very easy. Thanks to the hands-on tools, intuitive workflows and the many new and innovative functions it provides, users can work on their projects very efficiently.
The modern and future-proof platform of EASE 5 combines a highly precise and proven calculation engine with an intuitive user interface. These advantages make it the state-of-the art solution for a wide range of applications from immersive designs in entertainment venues to speech intelligibility in airports and SPL coverage in shopping malls.

Due to its short development cycles the software is continuously and rapidly expanded. See what's next on our roadmap here:
In view of the extensive functional scope and the further development of EASE 5, the release of the Second Edition also marks another step in the gradual phasing-out of its predecessor, EASE version 4. In this context, details are outlined by the End of Support announcement for EASE 4.
Barely a year after its introduction and given its swift adoption worldwide, EASE 5 is now well on its way to becoming the new standard for electro-acoustic and room-acoustic simulation.
Join the EASE 5 success story now!
Getting started with the software is very straightforward due to its high accessibility. Beyond that we provide several resources that make it easy for you to become acquainted with EASE 5:
Along with the introduction of the Second Edition, we are offering these special benefits:
Reduced initial fees for EASE JR - a great opportunity if you have been working with EASE Evac or EASE Focus and want to extend your portfolio by another powerful solution.

Time limited 20% bundle discount - a great offer if you intend to obtain or upgrade multiple licenses with the same feature level and license term. The discount will be granted automatically when purchasing through our Online Store.
The AFMG Customer Success Team will be happy to take care of any request you might have and is also available for an online appointment.