Successful Year 2021 Inspires Transformational 2022
Image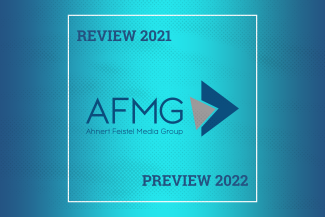 AFMG® looks back to a successful year 2021. In the past year, all AFMG teams have worked intensively on projects primarily aimed at expanding our marketing tools and constantly adapting the internal processes in an agile and customer-oriented manner enabling us to perform high quality sales and support services and continuous feature releases.
On this basis we will put our energy in 2022 into strengthening our customer relationships through tailored marketing campaigns, the expansion of service and support with focus on digital, easily accessible resources, and of course the development of innovative features for our software products, especially for EASE 5.
Highlights of 2021 at a Glance:
Launch Of The New AFMG Website
In September 2021 the Marketing and Sales team launched the new AFMG website enabling us to present our company, our software, and related services in a modern, transparent, and structured way. The state-of-the-art technological implementation allows us to connect various platforms such as the license portal and application-oriented or password-protected customer areas in the future. In addition, we used this opportunity to introduce our new, stream-lined company logo.


New Staff Members
In a win for our agile software development team in 2021, two new employees will assist this highly motivated group to move forward: Lars Schiemann (MSc "Environmental Computer Science") and Emil Köppen (MSc "Engineering Science"). Lars contributes as a software engineer while Emil works on feature specifications and automated testing. Both are enthusiastically involved in defining user stories, that are turned via highly sophisticated and future-proof software code into user-oriented features. We're very happy to welcome Lars and Emil in our team!

High Download Numbers For EASE Focus
It is with great pleasure that we can report 40,000 EASE Focus downloads for the past year. EASE Focus is an acoustic simulation program for 3D modeling of line arrays, sub arrays, and conventional loudspeakers mainly used in the event industry, which has been heavily affected by the pandemic over the last two years. This suggests that at least part of the event business continues to be active in planning and innovation and we hope that these projects can be implemented in practice as soon as possible.


Software Releases With Focus On EASE 5
Over the last year we have continuously developed our range of software solutions and published updates. For our existing products mainly bug fixes and small features have been released. Large new feature sets have been frequently made available for EASE 5, our software that is currently under development and evaluated by numerous Early Adopters. Step by step we are moving closer to the feature set we want to complete for the public release of the software.

Outlook for 2022:
EASE 5 Development
As visualized in the timeline above, we're broadly moving forward with the development of EASE 5. We have performed 10 major feature releases over the last 12 months. Based on this speed of development we are positive about being able to take preorders for the software at some point during this year.
The feedback of EASE 4 users participating in the EASE 5 Early Adopter Program is constructive, motivating and even more importantly: It helps us to verify and adjust our roadmap and make sure to meet user requirements as best as we can. We will open the Early Adopter Program for more EASE 4 users within the next months. We will also confirm the selection of features for the first release by dedicated surveys sent directly to the Early Adopters. We are looking forward to welcome more participants in our Program!

Expand Marketing and Communication Channels
Our main goal for 2022 is to strengthen our relationships with customers, users, and partners after the pandemic recedes. We would like to further enhance our understanding of your daily workflows and needs when using our software tools.
Given this goal, we will improve our software by continuous bug fixes and feature upgrades, and offer tailored video tutorials and product introductions to help you get started with the software as a supplement to our regular software trainings. These activities will be accompanied by promotion and package discounts supporting customers that are being financially constrained by the global economic crisis.
We continue to develop our digital communication platforms and online trainings. Still, we're very much looking forward to meeting you in person at a training, at a tradeshow or convention in the near future. Please feel invited to share any feedback with regards to our software, service and support via our contact form at www.afmg.eu.
AFMG wishes its customers and partners a healthy and successful year 2022!