STI Calculations According to New Edition of IEC 60268-16
In September 2020, a new edition 5.0 of the IEC 60268-16 standard on speech intelligibility has been published. The new version has to be considered when measuring or modeling the speech transmission index (STI).
For a large number of AFMG® software users, speech intelligibility is an essential criterion in the context of the projects they plan and bring to realization. For AFMG products mainly being used in the field of measurement and simulation, the provision of valuable results that allow statements to be made about the STI is therefore an important feature. For this reason, our team took a closer look at the new standard for the objective evaluation of speech intelligibility by means of the STI.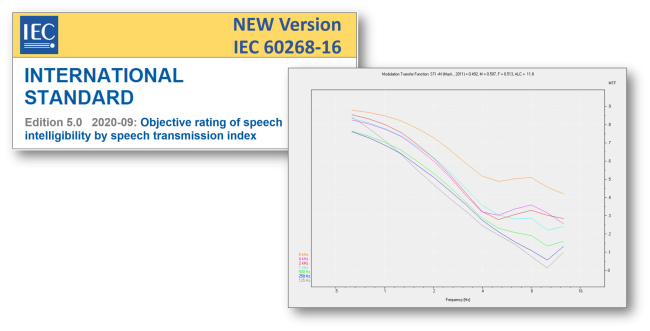 In summary, the key point is that the new standard does not have an impact on the calculation algorithms used in our products. The mathematical definitions of how the modulation transfer functions and the resulting STI figure are computed have not changed. For this reason, no modifications to AFMG's software are required in order to be compliant also with the latest edition 5 of IEC 60268-16.

What else there is to know:
The new version of the standard primarily includes a large number of clarifications, additions and further explanations which contribute significantly to better comprehensibility and easier transfer into practical application.

Compared to the previous versions, much more detailed information on post-processing is given and manufacturers of measuring instruments are provided with a comprehensive verification guide.
Beyond that, the female test spectrum was removed and the signal test spectrum of the male voice was adjusted.

The 125 Hz and 250 Hz frequency bands are now emphasized less compared to the rest of the spectrum. This is relevant when manually entering pre-settings of the speech spectrum and evaluating and interpreting calculation results.
If you wish to obtain a complete overview of the changes or acquire the new standard, we recommend visiting the IEC – International Electrotechnical Commission Publication Page.
In case you have questions about STI in connection with AFMG products,
feel free to contact the AFMG Support team.