New Agile Tester Complements Development Team of AFMG
Image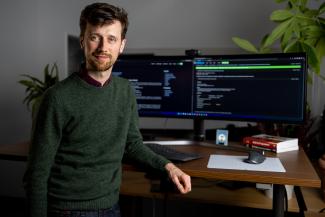 AFMG® is continuously looking for technically skilled team members who are interested in working in a modern and agile environment. However, we are not only interested in the best possible use of professional knowledge, but also in providing ways to develop personal strengths and soft skills to work in a motivated and efficient manner. In order to find the right place in the company, we offer trainee programs which we implemented successfully over the last years. Most recently, we gained our new colleague Emil Köppen as a test engineer for our development team.
Emil joined us as an intern in May 2021 after finishing his studies at the Technical University Berlin. He holds a Master's degree in Engineering Science with a specialization in technical acoustics and fluid mechanics. This thematic focus offered him the best starting conditions for a career at AFMG. Within his first six months at the company, Emil obtained an overview of the various tasks, processes and tools of our development team and went deeply into the topic of agile testing. Subsequently he has been working for six months with the technical support team, familiarizing himself with the range of AFMG software products and digging into technological and scientific details. By providing technical support to our users on a daily basis, he got to know our customer base and their usage scenarios for our software solutions. During this time, Emil also took on small research projects that contributed to the technical definition of new features in our software. Starting in April 2022, Emil will now be a full member of our group of agile testers. As an integral part of the development team, the testers are in charge of organizing and structuring the test environment technically as well as the actual authoring and continuous monitoring of automated tests. In addition, they contribute to the definition of concrete feature and GUI implementations, as well as user stories.
We're very happy to welcome Emil as a colleague as his broad insight into our company represents the perfect basis to contribute to excellent customer-oriented feature development and support and sales services.
If you are interested in getting to know more about our company and job openings, please feel free to have a look at our company website!