EASE - Make the Right Choice for Your Projects
Image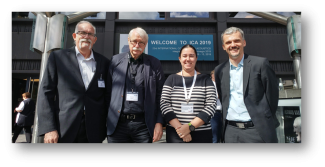 Ana Jaramillo and Bruce Olson – two of our representatives in the North America region – took an active role at the most recent ASA conference in Louisville and also at the ICA satellite event ISRA in Amsterdam this September. The topic of their presentations was comparing reverberation time equations and ray tracing simulations.
Design engineers and acoustic consultants working with our simulation software EASE® regularly have to consider this question when evaluating the most suitable calculation method for a specific project simulation.
Besides the reliability of the material database and the quality of the loudspeaker measurement data, this can be seen as one of the key aspects that has a great impact on the validity of simulation results.
Before starting a calculation it is highly recommended that users consider what is the optimal method for a certain project and get answers to questions like
"How precise can the calculation be or even needs to be?"
"Which method offers the best approximation of reality?"
"How much time do I want and how much time do I have to invest?"
"Do I have all data available needed for an in-depth investigation?".
AFMG´s simulation software EASE® provides solutions for different kinds of calculation levels. This FAQ gives you an overview of the different versions and the possible calculation methods they provide: "Which quality levels of calculation does EASE offer?"
If you need further assistance in finding the correct EASE® version for your projects, feel free to contact us via our contact form. We will be glad to advise you.