AURA is an add-on module for EASE Standard that allows you to perform advanced acoustical investigations. It was developed in cooperation with the renowned Institute for Technical Acoustics at RWTH Aachen University. The AURA name is an acronym for Analysis Utility for Room Acoustics.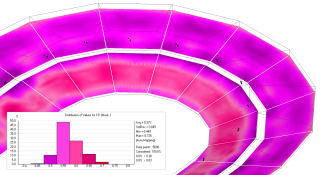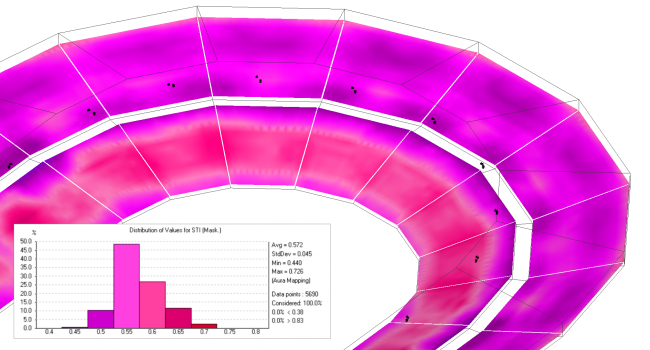 Accurate and Fast Impulse Response Simulations  
AURA is composed of a hybrid Ray Tracing engine, which uses both: the deterministic Image Model (Cone Tracing) and the Stochastic Ray Tracing method, taking advantage of the best they can offer to speed up the computation without compromising accuracy. 
EASE Standard including the AURA module offers the highest quality of calculations, and is the most flexible simulation solution. This combination provides the methods needed to perform acoustical simulations for several different types of venues, such as concert halls, stadiums, train stations, airports, cathedrals and more.
Get the Most Out of Powerful Computers
High-end algorithms allow you to use all resources available on modern machines with 64-bit CPUs and several cores, as well as large amounts of RAM and disk space. This guarantees even more reduction of calculation times, which are especially important for large or complex projects.
Image
Compute Key Acoustic Parameters According to ISO 3382 Standard 
Evaluate the room or system design based on measures defined in the International Standard on Room Acoustic Measurements ISO 3382. AURA is capable of adding all of the following measures to EASE:
Reverberation Time (T10, T20, T30)
Early decay time (EDT),
Clarity (C80)
Definition (D, C50)
Center time,
Sound strength (G),
Echo Criteria for Speech and Music - Dietsch and Kraak
Speech intelligibility index (STI) according to IEC 60268-16:2020, with greatly increased accuracy
Articulation Loss (% AlCons)
Lateral Fraction (LF)
Lateral Fraction Coefficient (LFC)
Direct and total SPL etc.
Compute Full Impulse Response Data 
AURA generates full-length impulse response data. While large or complex rooms often limit the capabilities of conventional Ray Tracing and Mirror Image algorithms, AURA's hybrid approach can simulate reflectograms and impulse responses up to the length of the reverberation time and even longer. Therefore, AURA does not require adding an extrapolated reverberant tail in post-processing.
Take Into Account Scattering Coefficients
The effect of sound scattering by structured surfaces and surface materials is taken into account only with AURA. The Wall Material database module includes a Scattering Wizard that allows real-life approximations of scattering coefficients.
For most projects it is difficult or impossible to determine accurate information about the scattering characteristics of the surfaces. That is why the new default S-curve of scattering coefficients developed in cooperation with RWTH Aachen is important. Results will be closer to reality and less tuning of the scattering coefficients should be necessary.
Due to the computation of full and high-density impulse responses and the consideration of scattering effects, the binaural data generated with AURA is generally more suitable for auralizations with the EARS Module, producing more realistic acoustic impressions.
Discover also our flagship software for the simulation of scattering coefficients of complex structures: AFMG Reflex. The tool is compatible with EASE when it is combined with the AURA module, and its results can be instantly exported to an EASE Wall Material file.
Features

The AURA module adds the following main resources to EASE:

Hybrid Ray Tracing routines: for high quality calculations at reduced time

AURA Mapping: allows mappings according to ISO3382 over Audience Areas, surfaces or at Listener Seats through the computation of an echogram. The echograms and histograms generated with AURA Mapping allow investigation of impulse responses and verification of the simulation parameters.
AURA Response: calculates a detailed reflectogram that can be used for reflection analysis and from which a Binaural Impulse response or set of B-Format result files can be computed for auralizations.

64-bit engine: AURA Mapping and AURA Response auralisation results can use all RAM available on 64-bit computers
Multi-threading support: on 32- and 64-bit computers with several processor cores it can speed up computations significantly, depending on hardware availability. On 64-bit machines AURA can use all RAM available and up to 128 cores. Users are free to configure their calculation machine according to their project needs and budget.
Calculations according to ISO 3382: Early Decay Time (EDT), Reverberation Time (T10, T20, T30), Lateral Fraction (LF) & Lateral Fraction Coefficient (LFC), Clarity (C80), Definition (D, C50), Sound Strength (G), Center Time, Echo Criteria for Speech & Music, Speech Transmission Index (STI) & Articulation Loss
Diffuse reflections: scattering coefficients defined for wall materials are taken into account. This leads to a denser and more realistic reflectogram. In addition, AURA includes the scattering wizard for realistic assumption of scattering coefficients as a basis for calculation.
Response files in Ambisonics B-Format

Version Comparison

Which version of EASE should I buy - JR, Standard, or Standard + AURA Module ?

End of support AURA 3
Module for EASE Standard, 1 User Key
The End User License Agreement for EASE 4 applies.
Purchase Options

Upgrade Note

General Terms & Conditions

Additional Sales Terms

EULA